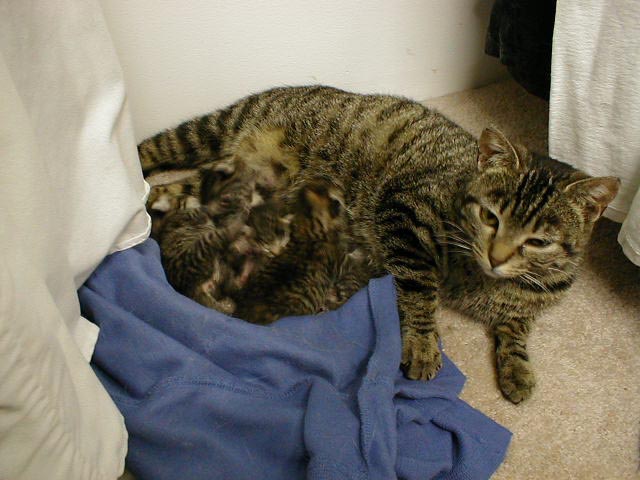 There was a stray who hung around the neighborhood. My sister was going to take her in, but when she took her to the Vet, we found out she was "with children." We ended up taking her in since we are the neighborhood cat people.
Here is a picture of the precious little kittens. The mother's name is Twitchy. She had four kittens on March 18th 2001.
Twitchy and one of her daughters have since gone to live on a farm in the area...Two of the boys went to another farm...
The last girl (Muffin) was taken by my mother. Muffin comes and stays with us while my snowbird parents visit Florida during the winter.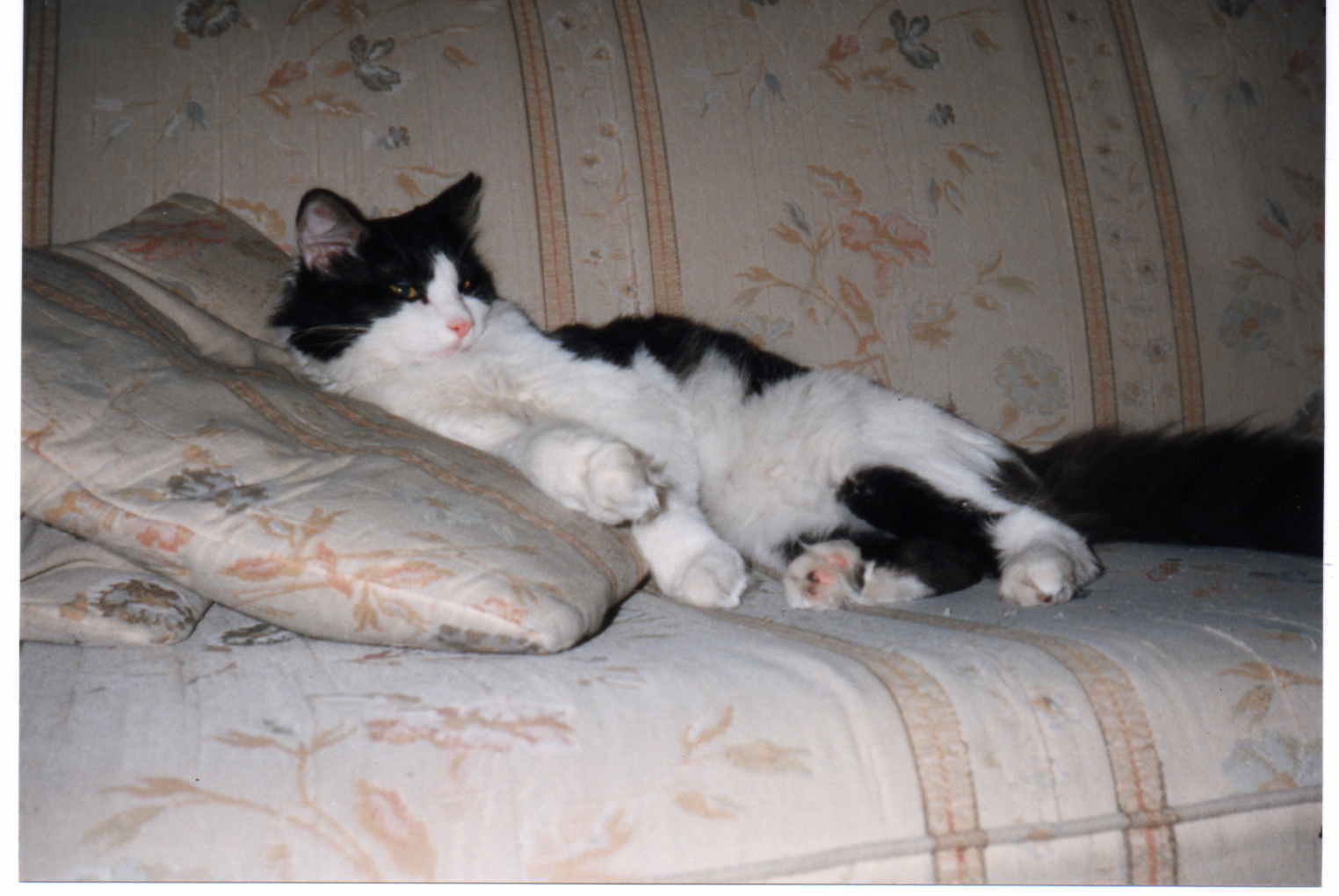 This is our first cat, Dallas. He thinks he's king.
Dallas got his name from the Dallas Cowboys. Terry told me I could get a cat if he could name it Dallas. I said sure which caught him off guard. We ended up getting a cat.
Dallas has since left us. He had major Kidney problems, so he is now a healthy cat being a brat with our grandparents.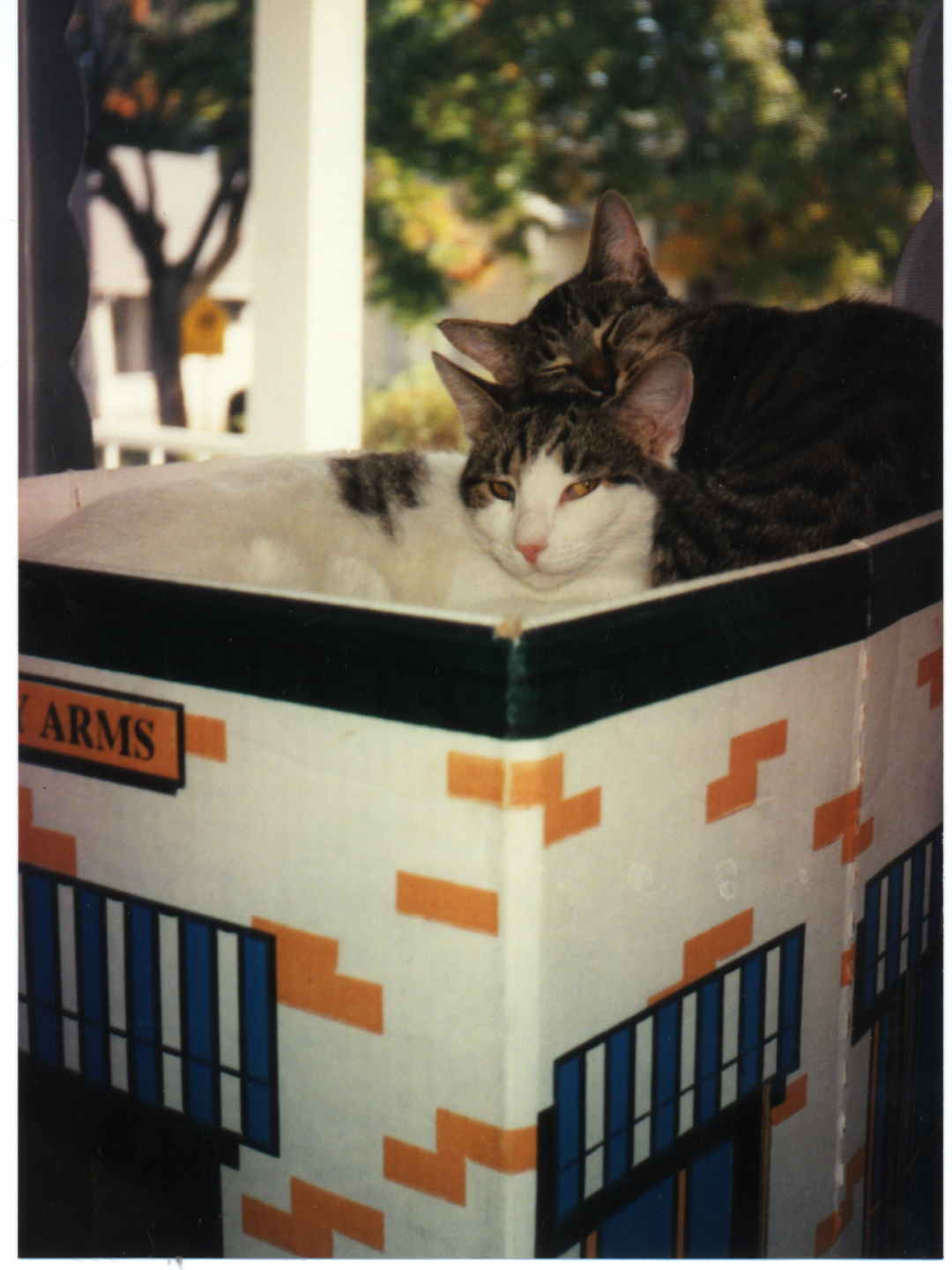 This is Texas (the white one) and Dusty. They look like they like each other, but they are the worse ones about fighting.
Texas was a stray I brought home from work. She just happened to be expecting. Only one kitten survived, Dusty, so we kept them both.
Texas was named so she would go along with Dallas. Dusty's name came from an incident right after she was born. Texas had her kittens in our crawl space of our house in our basement and she dropped Dusty down in the cement blocks that created the walls of the basement. Terry and a friend had to rescue Dusty who was covered in dust and dirt when they got her out. Thus, her name.
Texas has since left us also. One day she was being chased by the other cats and fell through the screen we had on one of the windows. She was not hurt, but she never did like people to get too close to her, so she did not allow herself to be caught. She has been skitish (sp?) ever since we brought her home. She would let you pet her if you were sitting down in a non-threating way, but it was a major war to pick her up. We have seen her a few times around the neighborhood. I just keep in mind that she lived outside before and will be fine.
These are the sisters, Haley (as seen above) and Jazz. Jazz was named after the Utah Jazz. (Can you tell we are sports fans?)
Terry rescued the sissies at Honda when they were found along Rt 33 which is a very busy road. He called me from work and had me pick them up. Of course we had to keep them.