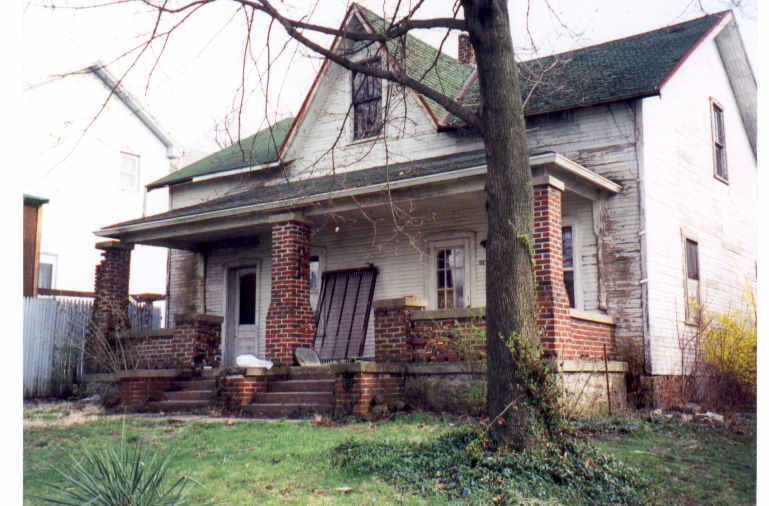 In April 1999, Gloria's dad discovered a house that was about to be torn down the very next day. The house was in VERY bad shape, but he discovered a log cabin within the house, so he had to save the house. When he had me go look at it, I loved it. It was right across from my sister's house and I had never even noticed it before. Well, we thought, this will be fun...little did we know.

We worked on the house for over a year before Terry and I could move in. While working on it, I did some research at the library (where I work) and learned that the log cabin was here in 1811 and was occupied by a Nathaniel Pinckard (many different spellings). He was a Justice of the Peace, teacher, and minister. His wife was also a lawyer and supposedly she was better than Nathaniel. After moving in and buying the house, I decided to try to find some living relatives of Nathaniel, and I did. I was thrilled! I love to think that we saved something that may mean someone else can enjoy something that is linked to an ancestor.

We hope to fill the log cabin with antiques and memoribilia from Urbana and the surrounding area. We also hope to include things that the original owners may have used. We have started to purchase items to be placed in the log cabin including old school books, old tools, and kitchen items.

These pictures help tell our story. It may be difficult to understand what made us do this, but we are now thrilled that we did! We are still working on the log cabin part, but we hope to have it done by the end of this year.

I will be adding pictures and updates as I can.

Please contact us if you have any questions or would like to visit!